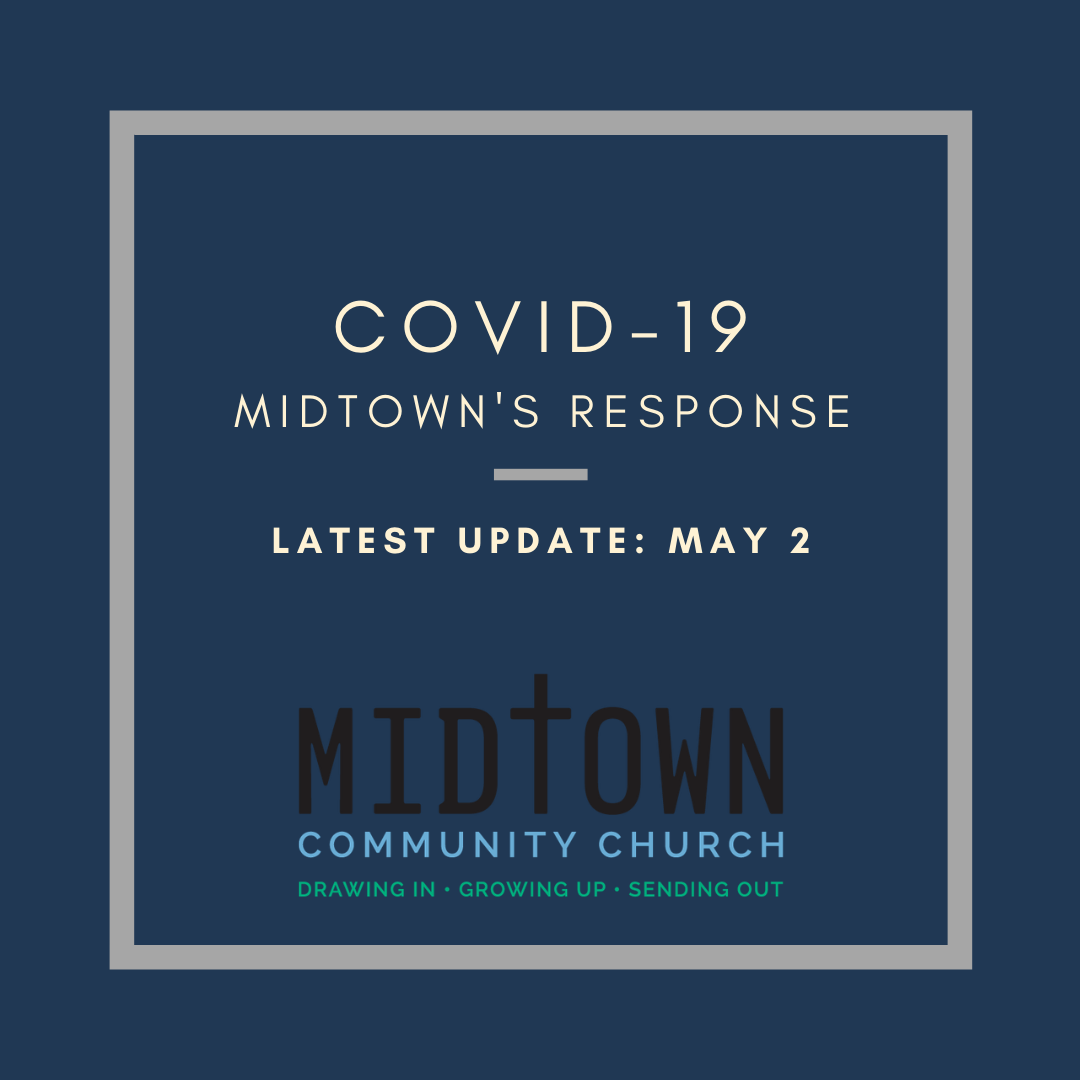 Coronavirus MCC Update
May 2nd, 2020
Midtown Family,
If you had told me 2 months ago that numerous people would give me toilet paper for my birthday, that I'd be suffering from zoom fatigue, preached to an empty sanctuary every Saturday, my hair would be this long or that I hadn't been inside a coffee shop for over a month, I would have called you crazy. At this point most of us have moved beyond the shock of it all and are likely either struggling with frustration or beginning to "experiment" with how to do life in our new normal. I would like to take a moment just to update you on how Midtown Church is attempting to lead us collectively through our grief and into growth as a church.
WORSHIP
Hopefully everyone has been joining us online every Sunday for our worship service on YouTube. If you have not done so, make sure to subscribe to our YouTube Channel. We are also using Slack (instant messaging platform) as a way to engage in post-sermon discussion on the #sermondiscussion channel. Each week we are attempting to find ways to improve the quality of our AV production, and a huge shout out goes to
the team that has been working on this every weekend (led by Jayson Cleary, Seth Peterson, and Michael Vuke). We recently purchased some additional equipment as a reflection of our desire to grow/improve our virtual worship production.
The big question that no one really has an answer to is, "When will we be able to return to regular in-person worship (IPW)?" We are obviously seeking to follow the guidance given to us by state authorities on this, and we will follow their lead on when this will happen. Based on my understanding of the phases involved in reopening NC, we are likely looking at June as the earliest time when we can gather together for IPW. However, this is a moving target as much depends on the arc of Covid-19 containment, which few people can predict.
What we are realizing is that this virus will likely remain a threat for the next 1-2 years. As such we are having conversations to figure out how to best provide Online Worship (OLW) as a long-term option. We recognize that for any number of reasons not everyone will be ready to jump into IPW when the state gives us the green light. So we will likely provide some form of OLW alongside IPW for quite awhile. A lot is involved in this decision, so please be in prayer for the leadership of the church as we figure out how to provide a wise solution that honors everyone in our church and our community. We are currently doing a lot of research into this topic, and are currently in discussion with Ridge Road Baptist Church about ways that we can work together on this.
DISCIPLESHIP
I believe all of our community groups and bible studies are continuing to meet regularly on Zoom. Based on the news that the Wake County stay-at-home order has expired effective April 30th, people can now meet in groups under 10 people outside, provided that social distancing is maintained (per the Governor's guidelines which will expire on May 8th). So this does represent an opportunity for people to gather in-person if they are comfortable doing so in this manner.
As you are aware, we are also trying to provide opportunities for spiritual & emotional encouragement through this season. On our Slack account, I am also periodically providing spiritual resources that I have found to be beneficial for us to consider (you can find these on the #pastors-resources channel). We've hosted several Zoom prayer meetings over the past few weeks. This has also taken the form of providing "zoom seminars" featuring trusted local Christian counselors (i.e. group therapy for all of us). The 2 previous seminars were very well attended. This coming Monday, May 4th I'll be doing a live Q&A with Therapist Caroline Von Helms. I think this will be very instructive for helping us to name some of what we are experiencing and equip us to respond in hopeful ways. Many of you are dealing with anxiety, and we will touch on this specific topic as well. If you are interested in this seminar, RSVP by emailing me directly at lindsey@midtown-church.org.
Note: Based on my conversations with pastors about the long-term implications of Covid-19, it is likely that one of the increasingly important forms of discipleship going forward will be "discipleship groups". We can't rely on large group ministry with any certainty, and a return to the primacy of small group discipleship which was a big part of Jesus' ministry is imminent. A number of you are already in discipleship groups/CGs. Lean into these, as they will be your most consistent form of spiritual nourishment. If you are interested in a discipleship group or community group feel free to reach out to me. If you want to learn about these in the context of our church, take a look at these documents on our website for further explanation: Discipleship Documents. This pandemic is forcing both small churches and large churches to rethink how they do ministry. However, I do think smaller churches like ourselves are in a more advantageous position because we excel in growing through the "small". We are set up well for responding nimbly to our situation so I'm honestly really encouraged with where God has our church in this cultural moment.
PASTORAL CARE
If you have any pastoral needs, please reach out to us!!  We are still here for you in this season. I'm available to do counseling over Zoom or FaceTime with individuals and couples.  We know that for some of you the reality of Covid-19 may bring financial difficulties.  If you need financial help, Midtown Church has money set aside to help people financially.  Email Seth Peterston at deacons@midtown-church.org if you have any financial needs. For any specific shepherding needs, you can reach out to me, one of our elders or the entire group at elders@midtown-church.org. 

DO YOU HAVE CORONAVIRUS?
It is possible that someone within our church family will answer "yes" to this question in the not-too-distant future.  Please reach out to me at lindsey@midtown-church.org if this is the case and we will figure out how we can better support you during this time.
THINKING MISSIONALLY
I've spoken quite a bit in my sermons about this being a moment where people are hungry spiritually for something more. Your friends, family, and neighbors may be more open to the gospel than at any point in their life. This is a time for us to look outward as well as inward. Invite people to watch our worship services because it has never been easier for folks to visit our church! Additionally, there are lots of ways we can serve in this season: 
▪ North Raleigh Food Pantry: Our Midtown point person is Marissa Wallace.  If you want to help in this ministry, you can reach out to her at: marissa.e.lowe@gmail.com.
▪ Dorcas Food Pantry in Cary:  Our Midtown point person is Madison Stephens.  If you want to help in this ministry, you can reach out to her at: madisonpace325@gmail.com.
▪ Refugee Hope Partners: This is one of the ministries that Midtown Church has partnered with for a number of years.  They focus on the refugee community in North Raleigh.  Currently Midtowners are sponsoring 5 refugee families with weekly help. I am so proud of how our church has rallied around this vulnerable demographic. Visit the following page on their website for other ways you can get involved with this especially vulnerable population: Three Ways to Help Right Now.
▪ Elderly Neighbors: If you have any at-risk neighbors on your street, now is a good time to get to know them and see if you can do any grocery runs for them or help in any other ways.
▪ Stimulus Tithe: We have begun receiving stimulus tithes already from
individuals who are in a position financially to give some portion of their stimulus checks towards those directly impacted by Covid-19. You can either mail a check and put "coronavirus relief" in the memo line, or there is a designated option on our online giving platform.
If you have any further questions or concerns during this season or if there are other ways we as a church can love and serve you better, please don't hesitate to reach out to any of us.
"So we do not lose heart. Though our outer self is wasting away, our inner self is being renewed day by day. For this light momentary affliction is preparing for us an eternal weight of glory beyond all comparison, as we look not to the things that are seen but to the things that are unseen. For the things that are seen are transient, but the things that are unseen are eternal." 2 Corinthians 4:16-18
For His Kingdom,
Pastor Lindsey