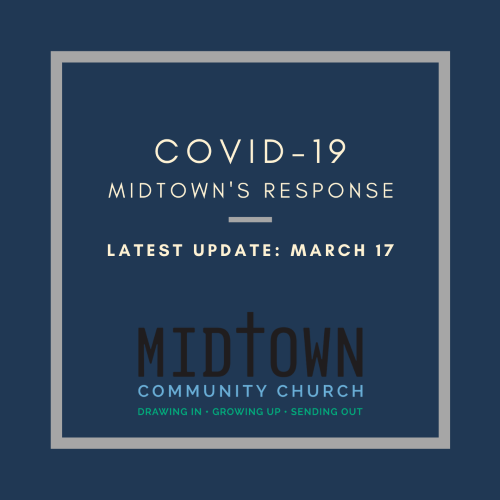 March 17th, 2020
Midtown Church Family,
Covid-19 has completely upended our world and is forcing us to rethink the way we do life on basically every level. Every day brings new directives from government agencies on how we are to live. I know for many of you it creates anxiety, fear, depression, loneliness and a host of other unpleasant feelings. The gospel tells us that when the world was at it's worst, Jesus was at his best. In John 16:33 Jesus said, "In this world you will have trouble. But take heart for I have overcome the world". My hope is that Covid-19 might actually bring out the best in the church of Jesus Christ, and specifically Midtown Community Church. I'm certainly convinced that people need the church more than ever.
Last night, the core leaders of the church met together via Zoom (more on that below) to discuss how we are to move forward in this season. Obviously all of this is subject to change as we are experiencing a once-in-a-generation pandemic for which no one has a playbook. But through consultation with CDC, government leaders and other local church leaders, below you will find how we are going to move forward:
Worship
Currently we are planning as if we will not hold in-person worship services for the next 8 weeks, per the current CDC guidelines. Please note that this timeline may be subject to change in one direction or another as we continue to monitor the situation.
This means that we will continue to move towards virtual worship in some capacity. We are planning to livestream sermons on Sunday mornings at 9:15am (with capacity to view anytime following), using the YouTube platform. We are currently exploring whether introducing live worship music is an option for us. In the mean time know that we will do everything we can to help ensure your ability to worship on the Lord's Day with one another virtually.
Church-Wide Events (along with Men's & Women's events)
Per CDC guidelines, all in-person events will be cancelled for the foreseeable future, which includes the Men's Retreat, Egg Hunt & Good Friday Service. The Men's Retreat will likely be postponed until the Fall.
"Growing Up": Discipleship
Per CDC guidelines we are discouraging all in-person small group meetings as well. However, at this point I really want to push against the tendency to shut down discipleship. In fact, I want us to lean into the awkwardness of virtual discipleship, as I think we need to engage our faith with other Midtowners now more than ever. What would it look like for some of you to start new discipleship groups NOW because you realize you need this?!?! In order to assist you, Midtown is providing 2 platforms for our continued pursuit of "growing up" together as a community.
Virtual Meeting Platform: Midtown is purchasing a subscription to Zoom today, which will enable us to schedule bible studies, community groups, discipleship groups and meet virtually. We used this with a group of 13 leaders last night, and it was awkwardly fun (Consult Rand Williams on how to snack inappropriately during said meetings). If you want to host a meeting using Midtown's Zoom account, reach out to our Administrator Erin Wright at erin@midtown-church.org. She can get you set up.
Instant Messaging Platform: Midtown has created a "slack" account which allows us to dialogue via instant messaging as a church. There is an app that you can download onto your phone, allowing you to stay connected with Midtowners. I really want to encourage all of you to sign up for this. We used it this past Sunday as a way to dialogue about the sermon as well as get updates from folks. Everyone should have the invitation in their email. If not, reach out to Nick Gibson and he will get you set up. Nick Gibson: nickgibson89@gmail.com
Pastoral Care
If you have any pastoral needs, please reach out to us!! We are still here for you in this season. We know that for some of you the reality of Covid-19 may bring financial difficulties. If you need financial help, Midtown Church has money set aside to help people financially. Email Seth Peterson at deacons@midtown-church.org if you have any financial needs. For any specific shepherding needs, you can reach out to me, one of our elders or the entire group at elders@midtown-church.org.
Do You Have Coronavirus?
It is possible that someone within our church family will answer "yes" to this question in the not-too-distant future. Please reach out to me at lindsey@midtown-church.org if this is the case and we will figure out how we can better support you during this time.
"Sending Out": Mission
There are lots of ways we can serve in this season:
Finally, let me remind you of what the Apostle Paul said in 2 Corinthians 4, "So we do not lose heart. Though our outer self is wasting away, our inner self is being renewed day by day. For this light momentary affliction is preparing for us an eternal weight of glory beyond all comparison, as we look not to the things that are seen but to the things that are unseen. For the things that are seen are transient, but the things that are unseen are eternal." God has called us as a church to bring the eternal weight of our future glory into view, that it might remind us of where our hope truly lies. But may it also give us courage and humility to bring that unseen reality into the transient world in which he calls us to live now.
For His Kingdom,
Pastor Lindsey